L1 Intracompany Transferees
L1 Intracompany Transferees Attorney
Nonimmigrant Visas for International Employee Transfers
In today's increasingly globalized economy, a growing percentage of business is conducted by multinational corporations. More and more of the world population works for companies that maintain offices and facilities in more than one country, and this business trend has led to great increases in production and economic activity across the globe. One factor that continues to present a barrier to the fluid operation of multinational corporations, however, is the immigration laws of the different countries in which employers have offices or facilities. When a multinational corporation seeks to transfer an employee from offices abroad to work at a location in Virginia or elsewhere in the United States, it is necessary to apply for an L1 intracompany transferee visa.
The L1 nonimmigrant visa makes it possible for corporations to carry out the personnel transfers they require in order to move managers, executives and specialists to the locations where their skills are needed in order to facilitate the expansion and success of the enterprise. Specifically, the employee must be a manager or executive, or must work in a position that requires specialized knowledge, and must have been working for the same employer in offices abroad for at least one continuous year within the past three years.
There are two types of L1 visas, the L-1A for executives and managers and the L-1B for transferees who possess specialized knowledge. In addition, there is an L-2 visa for the transferee's spouse and unmarried children under the age of 21. Certain employers are permitted to file a blanket petition to obtain multiple L-1 visas, an approach that can be effective for saving time and reducing expenses for everyone involved.
Virginia Immigration Attorneys for L1 Visas
Our lawyers at Fayad Law, P.C. have more than 20 years of combined experience, and we know how to get results from the immigration legal system. We serve clients globally as well as through our offices in Richmond and Fairfax, Virginia, and Washington, DC. We help our clients take advantage of every available option for pursuing the smoothest and quickest resolution to their cases and we are ready to assist both the employer and the employee with the process of applying for an L1 visa.
Contact us now 
for an initial consultation with a Virginia immigration attorney.
Introduction To Fayad Law, P.C.
Have questions about your rights? Ready to discuss your
immigration case? Contact Fayad Law, P.C. now.
What Sets Fayad Law, P.C. Apart?
As a boutique law firm, we make sure that every single case we handle and client we represent receives our personal attention. We limit our caseload to ensure our clients feel truly supported at every moment, from start to finish. Your best interests will always be priority – and that is our driving priority. We know that any type of legal matter can be overwhelming. We approach every case with compassion and dedication from start to finish because we know how much may be at stake for you. We bring more than 20 years of combined legal experience to the table, which gives our clients the legal knowledge and insight needed to successfully navigate various legal processes.

Firsthand Experience
as Immigrants

English, Arabic, French,
Russian and Spanish

Proven Track
Record of Success

Personal, One-on-One
Attention​

You Stay Informed
at All Times
We Strive for Client
Satisfaction
Real Clients, Real Testimonials
Professional Associations
Have questions about your rights? Ready to discuss your immigration case? Contact Fayad Law, P.C. now.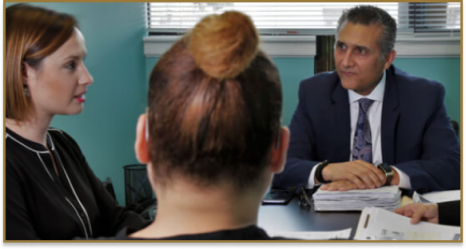 Sign up for the Fayad Law, P.C. Newsletter and get monthly news
straight to your inbox!