L1 Intracompany Transferees
L1 Intracompany Transferees Attorney
Nonimmigrant Visas for International Employee Transfers
In today's increasingly globalized economy, a growing percentage of business is conducted by multinational corporations. More and more of the world population works for companies that maintain offices and facilities in more than one country, and this business trend has led to great increases in production and economic activity across the globe. One factor that continues to present a barrier to the fluid operation of multinational corporations, however, is the immigration laws of the different countries in which employers have offices or facilities. When a multinational corporation seeks to transfer an employee from offices abroad to work at a location in Virginia or elsewhere in the United States, it is necessary to apply for an L1 intracompany transferee visa.
The L1 nonimmigrant visa makes it possible for corporations to carry out the personnel transfers they require in order to move managers, executives and specialists to the locations where their skills are needed in order to facilitate the expansion and success of the enterprise. Specifically, the employee must be a manager or executive, or must work in a position that requires specialized knowledge, and must have been working for the same employer in offices abroad for at least one continuous year within the past three years.
There are two types of L1 visas, the L-1A for executives and managers and the L-1B for transferees who possess specialized knowledge. In addition, there is an L-2 visa for the transferee's spouse and unmarried children under the age of 21. Certain employers are permitted to file a blanket petition to obtain multiple L-1 visas, an approach that can be effective for saving time and reducing expenses for everyone involved.
Virginia Immigration Attorneys for L1 Visas
Our lawyers at Fayad Law, P.C. have more than 20 years of combined experience, and we know how to get results from the immigration legal system. We serve clients globally as well as through our offices in Richmond and Fairfax, Virginia, and Washington, DC. We help our clients take advantage of every available option for pursuing the smoothest and quickest resolution to their cases and we are ready to assist both the employer and the employee with the process of applying for an L1 visa.
Contact us now 
for an initial consultation with a Virginia immigration attorney.
Introduction To Fayad Law, P.C.
Have questions about your rights? Ready to discuss your
immigration case? Contact Fayad Law, P.C. now.
What Sets Fayad Law, P.C. Apart?
As a boutique law firm, we make sure that every single case we handle and client we represent receives our personal attention. We limit our caseload to ensure our clients feel truly supported at every moment, from start to finish. Your best interests will always be priority – and that is our driving priority. We know that any type of legal matter can be overwhelming. We approach every case with compassion and dedication from start to finish because we know how much may be at stake for you. We bring more than 20 years of combined legal experience to the table, which gives our clients the legal knowledge and insight needed to successfully navigate various legal processes.

Firsthand Experience
as Immigrants

English, Arabic, French,
Russian and Spanish

Proven Track
Record of Success

Personal, One-on-One
Attention​

You Stay Informed
at All Times
We Strive for Client
Satisfaction
Real Clients, Real Testimonials
I really recommended Fayad law team!Mr.Aida did Amazing job with my case!I'm so lucky that i was one of your clients!😍thanks for you and for the team who was working on my case!!
mohammed A.
15:47 01 Sep 22
The indication I have been seeing in Fayed law actively work with client and realistic.
Gavi Yaneth H.
02:46 15 Jan 22
Very friendly staff and communicative!! If anyone is in need of immigration help, this is the place to go! They make the process simple, quick, and easy. Thank you Fayad Law!
To the point, great law office, friendlyThank u everyone
Nice place and friendly staff. Thank you Mrs. Marla for everything 🌺🌺
Fayad and everyone at his team have helped me and my family with our immigration issues/cases. I'm very impressed with their dedication and close attention to details. It's a firm that has great knowledge and great customer service. I highly recommend this firm!
Fayad law its a great firm very professional they made a great job With my case.
Stellar immigration firm. Had a very pleasant experience, had multiple cases handled by Fayad Law and they were responsive, knowledgeable and effective. Especially Mrs Dosmanova – highly recommend to work with this attorney, speaks multiple languages too
I'm very happy to work with Ms. Ektrena she helped me a lot through out my case, I would Thank her very much 🙂
Christian B.
06:14 29 Jan 20
We've been using Fayad law for years. They've successfully helped us obtain approval for an I-130 and are working on various other things on our immigration journey. They've also represented us on various traffic matters. We began working closely with Jonathan White a few years ago and he has always been refreshingly pleasant. I am greatfulmfor this practice and truly value the service we have been provided at Fayad Law- I cannot express the gratitude for the kindness that has been showed to my family.
Estamos muy agradecidos con la ayuda que el buffete nos ha ofrecido mi esposo fue detenido por ICE y fue procesada su deportacion de inmediato ..el llego a su pais de donde fue regresado a USA gracias a los abogados q detuvieron su deportacion…ellos lograron sacarlo con una fianza y estamos aqui Unidos en familia nuevamente …Gracias. Fayad Law por su apollo …vale la pena claro que si …🙏🙏🙏☺
I dealt with Ingy Girgis and she was beyond expectation in all matters , staff in the office are very helpful and cooperative. I realy recommend Fayad law office
Meilleur avocat très professionnel
Very knowledgeable and I would highly recommend his services.
Nice place kind and friendly staff
This review is being written after a phone consultation with Mr. Fayad. Mr. Fayad is a well-informed and caring person who tries his best to help his clients and lead them down the right path. His staff are understanding and polite, as they helped me with an issue concerning the timing of the consultation as well as followed-up after to ensure if I missed anything or needed any further help with my legal issue.Overall, I recommend Mr. Fayad for anyone who needs legal advice or help.
This review is specific for the front desk. The first face who greets you is Estaphania. She always has a smile and greets you warmly genuinely. She is attentive and seems like one who enjoys what she does.I can't rate the legal work yet because I just signed my contract with Mr. Fayyad and am hoping for the best.
The best one ever, great mindset, very clever
Nermine F.
14:17 12 Oct 18
We done my mother case with Mr. Fayad we want to thank everybody in the office they such of great team special johnsan he such a very good lawyer .. honest person thanks for his great job …Very helpful
Great Customer Service and knowledge about their business.
He is some of the best immigration LawyerOf Virginia.I'm so happy with the results.
They assisted my company with an H1-B visa for a key employee. Found the firm to be expert and responsive to our needs and concerns throughout the entire process.
The place to go if you have immigration issue
Professional Associations
Have questions about your rights? Ready to discuss your immigration case? Contact Fayad Law, P.C. now.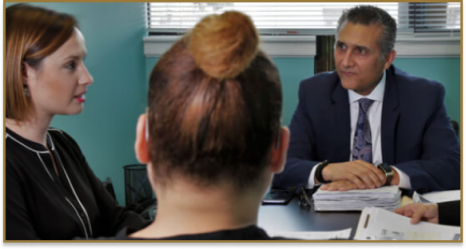 Sign up for the Fayad Law, P.C. Newsletter and get monthly news
straight to your inbox!