H-2B and H-2A Seasonal Visa Attorney
Assisting Non-Agricultural Workers in USA
Many types of employers throughout the United States have labor requirements that vary throughout the year. Common examples include ski resorts and theme parks. These businesses typically cannot easily find all of the workers that they need to fill all available positions because they are not offering year-round work. To make matters even more difficult, these employers are often providing a wage that may be substantially lower than what most of the people in the local labor market would be willing to accept, or perhaps the nature of the work is such that few people – if anyone – is willing to do the work at all.
Employers that need to fill temporary or seasonal positions that are not in the agricultural industry can often solve this employment problem by applying for H-2B seasonal worker visas for employees who are foreign nationals. The H-2B is a nonimmigrant visa, so it will only permit the holder to remain and work in the United States for a limited period of time and does not provide a path to permanent residence or citizenship. Instead, workers are only coming to fill a one-time position or to relieve a peak-load employment need.
An employer applying for H-2B visas must first obtain a labor certification from the Department of Labor. This process involves supplying proof that hiring aliens to fill the employment positions will not deprive local workers of available jobs and will not cause any negative effect on local wages. Other hurdles to obtaining H-2B visas include a yearly cap on the available number of visas and that only the citizens or nationals of certain countries are eligible. Fortunately, you can greatly improve your chances of success in the application process by retaining the services of a Virginia immigration attorney from Fayad Law, P.C. Our firm has offices in Richmond and Fairfax, and we serve clients internationally. We can assist you in preparing the necessary paperwork, obtaining labor certification, and resolving complications as they arise.
Contact us for a consultation to discuss your needs and to begin the process.
Introduction To Fayad Law, P.C.
Have questions about your rights? Ready to discuss your
immigration case? Contact Fayad Law, P.C. now.
What Sets Fayad Law, P.C. Apart?
As a boutique law firm, we make sure that every single case we handle and client we represent receives our personal attention. We limit our caseload to ensure our clients feel truly supported at every moment, from start to finish. Your best interests will always be priority – and that is our driving priority. We know that any type of legal matter can be overwhelming. We approach every case with compassion and dedication from start to finish because we know how much may be at stake for you. We bring more than 20 years of combined legal experience to the table, which gives our clients the legal knowledge and insight needed to successfully navigate various legal processes.

Firsthand Experience
as Immigrants

English, Arabic, French,
Russian and Spanish

Proven Track
Record of Success

Personal, One-on-One
Attention​

You Stay Informed
at All Times
We Strive for Client
Satisfaction
Real Clients, Real Testimonials
Professional Associations
Have questions about your rights? Ready to discuss your immigration case? Contact Fayad Law, P.C. now.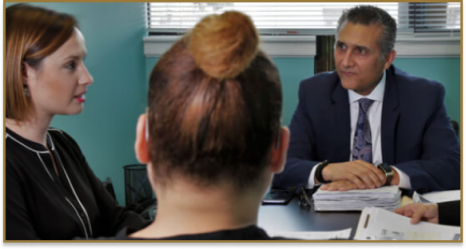 Sign up for the Fayad Law, P.C. Newsletter and get monthly news
straight to your inbox!