Providing Assistance to Those in USA and Abroad
The H1-B1 visa is similar to the H-1B and is for persons in "specialty occupations". This new category was created by the U.S.-Chile Free Trade Agreement and the U.S.-Singapore Free Trade Agreement.
In order to qualify for H1-B1 classification, the applicant must have a theoretical and practical application of specialized knowledge and must have at least a U.S. bachelors degree or its equivalent and the job sought must require at least a bachelors degree or its equivalent. Because this is not a self-petitioning category, the applicant must have a sponsoring employer in the U.S.
The spouse and unmarried children below the age of 21 are allowed to accompany or join the H1-B1 worker as H-4 dependents. However, they cannot work unless they qualify for a work visa. H-4 dependents can enroll and attend schools in the U.S. without obtaining a student visa.
Because the H1-B1 visa requires a U.S. sponsor, the applicant must obtain a written offer of employment from a U.S. employer. Unlike the H-1B, there is no need for the employer to file an I-129 Petition with the USCIS in the U.S. However, like the H-1B, a prevailing wage needs to be obtained and a Labor Condition Attestation (LCA) needs to be filed.
Both the applicant and the employer are required to submit documents for the H1-B1 visa.
The applicant is required to submit the following documents when applying for an H-1B visa abroad:
A completed visa application (Form DS 160) with one recent photograph, 1-inch square (37mm x 37mm), of each applicant, with the entire face visible. The picture should be taken before a light background and without head covering.
DS-157 Supplemental Nonimmigrant Visa Application is required of all men aged 16-45
A passport is valid for travel to the United States for at least six months longer than your intended visit.
Proof of nonimmigrant intent
THE EMPLOYER NEEDS TO PROVIDE THE FOLLOWING:
Copy of the certified LCA
A written offer of employment
Introduction To Fayad Law, P.C.
Have questions about your rights? Ready to discuss your
immigration case? Contact Fayad Law, P.C. now.
What Sets Fayad Law, P.C. Apart?
As a boutique law firm, we make sure that every single case we handle and client we represent receives our personal attention. We limit our caseload to ensure our clients feel truly supported at every moment, from start to finish. Your best interests will always be priority – and that is our driving priority. We know that any type of legal matter can be overwhelming. We approach every case with compassion and dedication from start to finish because we know how much may be at stake for you. We bring more than 20 years of combined legal experience to the table, which gives our clients the legal knowledge and insight needed to successfully navigate various legal processes.

Firsthand Experience
as Immigrants

English, Arabic, French,
Russian and Spanish

Proven Track
Record of Success

Personal, One-on-One
Attention​

You Stay Informed
at All Times
We Strive for Client
Satisfaction
Real Clients, Real Testimonials
Professional Associations
Have questions about your rights? Ready to discuss your immigration case? Contact Fayad Law, P.C. now.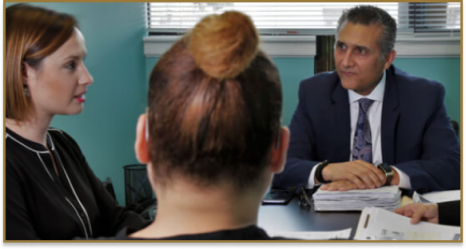 Sign up for the Fayad Law, P.C. Newsletter and get monthly news
straight to your inbox!