E1 Treaty Traders E2 Treaty Investors
Explanation of the E Category of Nonimmigrant Visa
Individuals who are citizens of certain countries with which the United States participates in treaties of commerce and navigation are able to take advantage of the E nonimmigrant visa category in order to enter the U.S. for certain purposes. The list of treaty countries includes dozens of nations around the world. The E category includes the E1 visa for "treaty traders," as well as the E2 visa for "treaty investors."
Qualifications for an E1 or E2 Visa
In order to meet the eligibility requirements for an E1 or E2 visa, you must be planning to visit the U.S. for the purpose of either engaging in substantial trade or developing an enterprise in which you have invested a substantial amount of capital. Trades that may qualify for an E1 visa can include business in services or technology, such as in the fields of international banking, communications transportation, insurance or even tourism. The employer of an E1 trader must also be of a treaty country, and at least half of the company's international trade must be with the U.S. An E1 trader must hold an essential position within the company, such as a supervisor or executive, or must perform specialized skills that are critical to the entire operation.
The criteria for the E2 treaty investor visa are similar, with the addition that the number of funds to be invested must be substantial, and the funds must be subject to an irrevocable commitment and be great enough to ensure the success of the operation. E2 visas are not available for investors who are only bringing enough money to supply an enterprise large enough to support themselves and their immediate family or for speculative investment; the purpose of the visa is to facilitate investments that are sufficiently great and will have a positive impact on the U.S. economy.
Let a Virginia Immigration Attorney Help You
If you are planning to travel to the United States for business or investment purposes and believe that you may be eligible for an E1 or E2 visa, 
contact a Virginia immigration lawyer
 at Fayad Law, P.C. for an initial consultation. Our offices are located in Richmond and Fairfax, Virginia, and Washington, DC and we offer our services to clients and businesses throughout the world. We have more than 20 years of combined experience and are prepared to assist you with the entire visa process.
Call us at 
(703) 998-5390
 today to discuss your options with an experienced immigration attorney.
Introduction To Fayad Law, P.C.
Have questions about your rights? Ready to discuss your
immigration case? Contact Fayad Law, P.C. now.
What Sets Fayad Law, P.C. Apart?
As a boutique law firm, we make sure that every single case we handle and client we represent receives our personal attention. We limit our caseload to ensure our clients feel truly supported at every moment, from start to finish. Your best interests will always be priority – and that is our driving priority. We know that any type of legal matter can be overwhelming. We approach every case with compassion and dedication from start to finish because we know how much may be at stake for you. We bring more than 20 years of combined legal experience to the table, which gives our clients the legal knowledge and insight needed to successfully navigate various legal processes.

Firsthand Experience
as Immigrants

English, Arabic, French,
Russian and Spanish

Proven Track
Record of Success

Personal, One-on-One
Attention​

You Stay Informed
at All Times
We Strive for Client
Satisfaction
Real Clients, Real Testimonials
Professional Associations
Have questions about your rights? Ready to discuss your immigration case? Contact Fayad Law, P.C. now.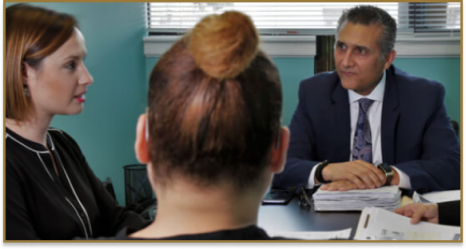 Sign up for the Fayad Law, P.C. Newsletter and get monthly news
straight to your inbox!