Providing Understanding and Compassion to Clients
Visitors who are seeking entry into the United States for short-term business-related visits typically obtain what is known as a B-1 visa. The general purpose of the B-1 visa is to attend conventions, conferences, and other legitimate commercial and professional activities. It must be understood that the B-1 visa does not allow for a visitor to engage in local employment for hire within the United States. Negotiating contracts, meeting with business associates, and participating in scientific, professional, educational or business conferences, or appearing in court for ongoing litigation are the typical uses of a B-1 visa. In addition, foreign medical students who wish to visit the United States for unpaid observerships may be granted the B-1 visa for such purposes. The visa applicant must be able to show that the visit is to primarily benefit a non-US company.
It is also possible for personal or domestic attendants of certain non-immigrants and U.S. citizens who hold international jobs to obtain a B-1 visa, as well as missionaries and ministers exchanging pulpits on a limited basis.
Immigration Lawyer in Virginia for B-1 Visas
If you are seeking to apply for a B-1 visa to visit the United States and have questions, or you are a manager with a company sending multiple employees to the United States, or a university abroad with multiple students planning to visit the U.S. for such business-related purposes as set forth above, feel free to contact our office for an evaluation and a free quote. We have successfully handled the visa requirements and applications for large groups and can help you smoothly and easily obtain your visa or your visiting group's visas without delay.
Fayad Law, P.C. is an international 
immigration
 law firm with offices in Virginia dedicated to helping people from around the world to visit, live and work in the United States. 
Contact our offices
 today.
Introduction To Fayad Law, P.C.
Have questions about your rights? Ready to discuss your
immigration case? Contact Fayad Law, P.C. now.
What Sets Fayad Law, P.C. Apart?
As a boutique law firm, we make sure that every single case we handle and client we represent receives our personal attention. We limit our caseload to ensure our clients feel truly supported at every moment, from start to finish. Your best interests will always be priority – and that is our driving priority. We know that any type of legal matter can be overwhelming. We approach every case with compassion and dedication from start to finish because we know how much may be at stake for you. We bring more than 20 years of combined legal experience to the table, which gives our clients the legal knowledge and insight needed to successfully navigate various legal processes.

Firsthand Experience
as Immigrants

English, Arabic, French,
Russian and Spanish

Proven Track
Record of Success

Personal, One-on-One
Attention​

You Stay Informed
at All Times
We Strive for Client
Satisfaction
Real Clients, Real Testimonials
Professional Associations
Have questions about your rights? Ready to discuss your immigration case? Contact Fayad Law, P.C. now.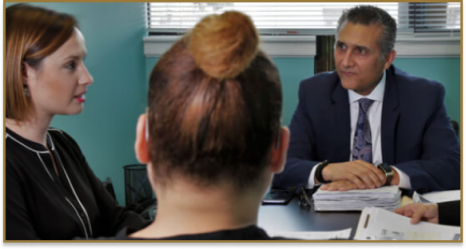 Sign up for the Fayad Law, P.C. Newsletter and get monthly news
straight to your inbox!