Helping Clients in Virginia with Asylum and Refugee Status
Student Visa Lawyer in USA
Serving for Over Two Decades
Thousands of foreign nationals travel to the United States every year to study in our approved universities and trade schools. As a bonafide student, a foreign national can obtain a non-immigrant visa under the F-1 category for academics, the M-1 category for vocational studies, and a J-1 category for exchange students. The programs which a foreign national must be attending on an F-1 and M-1 visa are approved by the Department of Homeland Security, and those programs which a J-1 visa exchange student is enrolled in are approved by the Department of State. At Fayad Law, P.C., we can help those students who are seeking assistance in preparing and filing their visa applications and assist those who have had unusual circumstances arise during or after their issuance of a visa. The student visa is also available for those foreign nationals who are already within the United States under certain other visas.
To be eligible for a student visa, you must be able to demonstrate that you are a bonafide student, that you do not intend to immigrate to the United States, appropriate acceptance in a program approved by DHS or DOS and your financial qualifications, and several other requirements for each student category. You must also have applied for an appropriate visa if you are not in the United States or an approved adjustment of status from another category if you are within the United States.
We are always available by phone to schedule an appointment and answer questions, and we welcome your call. Having helped thousands of clients over the years, we are extremely familiar with the current laws and regulations relating to all immigration matters.
Call our offices at (703) 998-5390 today and speak with one of our highly qualified and experienced immigration attorneys if you have any questions or need assistance in preparing your visa application.
Introduction To Fayad Law, P.C.
Have questions about your rights? Ready to discuss your
immigration case? Contact Fayad Law, P.C. now.
What Sets Fayad Law, P.C. Apart?
As a boutique law firm, we make sure that every single case we handle and client we represent receives our personal attention. We limit our caseload to ensure our clients feel truly supported at every moment, from start to finish. Your best interests will always be priority – and that is our driving priority. We know that any type of legal matter can be overwhelming. We approach every case with compassion and dedication from start to finish because we know how much may be at stake for you. We bring more than 20 years of combined legal experience to the table, which gives our clients the legal knowledge and insight needed to successfully navigate various legal processes.

Firsthand Experience
as Immigrants

English, Arabic, French,
Russian and Spanish

Proven Track
Record of Success

Personal, One-on-One
Attention​

You Stay Informed
at All Times
We Strive for Client
Satisfaction
Real Clients, Real Testimonials
Professional Associations
Have questions about your rights? Ready to discuss your immigration case? Contact Fayad Law, P.C. now.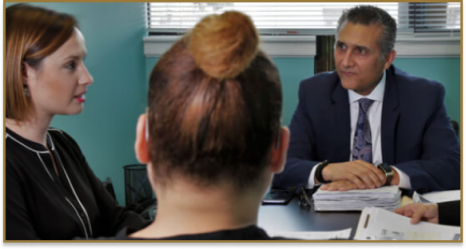 Sign up for the Fayad Law, P.C. Newsletter and get monthly news
straight to your inbox!