Fayad Law, P.C. helps employers and prospective employees navigate the PERM visa process.
Do you want to live and work in the United States permanently? If so, you can obtain Permanent Resident Status Through Labor Certification (PERM). First, your current or prospective employer must complete the PERM labor certification process. Then, your employer will need to file Form I-140. Once approved, you can apply for an adjustment of status and become a green card holder.
The PERM labor certification process was created to protect workers in the United States. Because of that, it's quite complicated, with ample paperwork and research required. Our Richmond PERM visa lawyer can help you through each step of the process, so you can pursue your American dream.
Requirements for PERM Labor Certification
If you would like to start the PERM labor certification process, you must meet some requirements. These include:
An existing job offer with a salary at or above the Department of Labor's prevailing wage

Completion of a U.S. labor market test that shows U.S. workers aren't qualified or available to fill the position

Proof that you meet the qualifications for the job
Why Choose Fayad Law, P.C.
Covers All Aspects of Immigration Law – We help clients with citizenship and naturalization, appeals and bonds, asylum, and other aspects of immigration law.


Multilingual – We are fluent in English, Arabic, French, Russian, and Spanish, allowing us to provide legal services to immigrants from around the world. 


More than 20 Years of Experience – Our experienced legal team understands the immigration system, and we use our legal experience and insight when representing our clients. Our first-hand experience as immigrants also helps our clients navigate the complex immigration system. 


Personal Attention – As a boutique law firm, we limit our caseload to ensure we can provide personal attention to each client that we serve. 


Ethical and Sound Legal Counsel

– Nash Joseph Fayad has a reputation for providing ethical and sound legal counsel and was appointed to serve as Special Counsel to the Commonwealth of Virginia for all immigration matters. 
Ask A Question, Tell Us What Happened or Request a Free Consultation
 or fill out the short form below.
Labor Certification Requirements
Employers must initiate the PERM process by obtaining a labor certification. They must provide evidence to the Department of Labor that shows they have tried yet failed to recruit qualified American workers for the position. Your Richmond PERM visa lawyer will help you meet the requirements to obtain the certification. 
The requirements include advertising the job twice in the Sunday edition of the most popular publication in the region. Employers also have to list the job with the state's department of labor for a minimum of 30 days. Also, they need to post a job notice at the company. This notice must stay in place for at least 10 business days. Along with meeting these requirements, companies must take three other recruitment measures. They must choose measures permitted by the Department of Labor.
Prevailing Wage Requirements
The United States government wants to ensure that employees don't recruit immigrants to work for low wages. That would negatively impact the U.S. job market and economy. Therefore, employers can only apply for a PERM labor certification if they offer the prevailing wage. This refers to the average salary that similar employees receive.  
For instance, if a Richmond employer wants to apply for a PERM visa for an engineer, he or she will have to look at the average wage for the same type of job in the city. Then, the employer will use that as a guideline when setting the wage for the job. This wage must be offered to all applicants, not just the foreign applicant.  
Employers also must create a job description as part of the PERM visa process. This must outline the minimum requirements needed to fill the job. Then, the prospective employee has to submit documentation that proves he or she meets the requirements. This documentation must be included in the application. Your Richmond PERM visa lawyer will go over this and the other steps to ensure everything is in order.
How Long Does The Process Take?
The processing time varies based on different factors, such as how long it takes the employer to obtain the labor certification. Once the paperwork for the PERM visa is filed, you can expect processing to take approximately six months. Due to the other steps, it can take a year or longer to receive the visa. Hiring a Richmond PERM visa lawyer can help you expedite the process.
What Sets Fayad Law, P.C. Apart?
As a boutique law firm, we make sure that every single case we handle and client we represent receives our personal attention. We limit our caseload to ensure our clients feel truly supported at every moment, from start to finish. Your best interests will always be priority – and that is our driving priority. We know that any type of legal matter can be overwhelming. We approach every case with compassion and dedication from start to finish because we know how much may be at stake for you. We bring more than 20 years of combined legal experience to the table, which gives our clients the legal knowledge and insight needed to successfully navigate various legal processes.

Firsthand Experience
as Immigrants

English, Arabic, French,
Russian and Spanish

Proven Track
Record of Success

Personal, One-on-One
Attention​

You Stay Informed
at All Times
We Strive for Client
Satisfaction
Real Clients, Real Testimonials
Have questions about your rights? Ready to discuss your immigration case? Contact Fayad Law, P.C. now.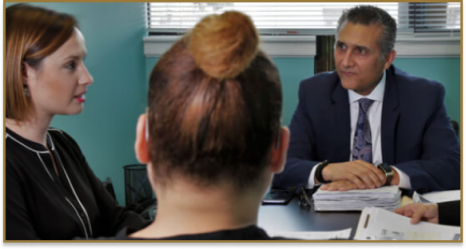 Sign up for the Fayad Law, P.C. Newsletter and get monthly news
straight to your inbox!