J Visa Immigration Lawyer in USA
Choose a Skilled Legal Team Serving Clients Throughout USA
The J-1 visa is a special category of visa available for foreign exchange program students who are visiting the United States to study through an approved exchange program with another educational institution in the United States. The programs are administered by the Department of State for trainees, college or university students, research scholars, secondary school students, foreign medical graduates, camp counselors, au pairs, government visitors, teachers, and camp counselors. Also, certain summer work and travel students are eligible for the J-1 visa. J-2 visas are also available for spouses or children accompanying the J-1 visa holder to the United States.
Our team at Fayad Law, P.C. has been assisting J-1 visa applicants obtain their visas for years in Virginia. If you or your child requires assistance in applying for a J-1 visa, please feel free to call our offices today to discuss your visa matters and get valuable advice or assistance obtaining your visa. The accurate preparation and filing of all documentation and attachments required for a successful visa application is crucial in any immigration matter. The importance of the timeliness of filing and proper submission of applications cannot be understated. We have developed a systematic approach to thorough preparation of our clients' documentation and submission representing thousands of clients at our firm and can provide you the highest level of professional care when representing you.
We can assist you with advice that will help dramatically increase your chances of obtaining your visa abroad, even if you have been denied in the past and have immigration violations in the past. We can also advise and assist in the proper maintenance of your status throughout the pendency of your visa once you have been granted permission to travel to the United States.
Call us at 
(703) 998-5390 
today and schedule your appointment to discuss your visa requirements with one of our qualified immigration attorneys.
Introduction To Fayad Law, P.C.
Have questions about your rights? Ready to discuss your
immigration case? Contact Fayad Law, P.C. now.
What Sets Fayad Law, P.C. Apart?
As a boutique law firm, we make sure that every single case we handle and client we represent receives our personal attention. We limit our caseload to ensure our clients feel truly supported at every moment, from start to finish. Your best interests will always be priority – and that is our driving priority. We know that any type of legal matter can be overwhelming. We approach every case with compassion and dedication from start to finish because we know how much may be at stake for you. We bring more than 20 years of combined legal experience to the table, which gives our clients the legal knowledge and insight needed to successfully navigate various legal processes.

Firsthand Experience
as Immigrants

English, Arabic, French,
Russian and Spanish

Proven Track
Record of Success

Personal, One-on-One
Attention​

You Stay Informed
at All Times
We Strive for Client
Satisfaction
Real Clients, Real Testimonials
Professional Associations
Have questions about your rights? Ready to discuss your immigration case? Contact Fayad Law, P.C. now.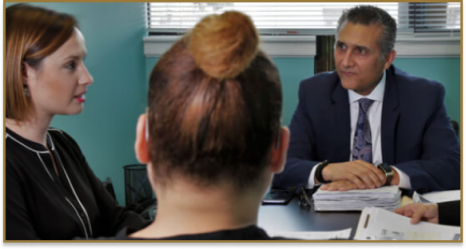 Sign up for the Fayad Law, P.C. Newsletter and get monthly news
straight to your inbox!