Fayad Law, P.C. helps investors obtain E-2 visas to relocate to the United States for business purposes.
Investment opportunities abound in the United States. Numerous foreign investors have relocated to the United States to benefit from various opportunities. If you live in a country with a trade and commerce treaty with America, you can apply for an E-2 visa. Once approved, you can relocate to the United States to direct and develop your investment. This will allow you to take a hands-on approach when investing in your business.
E-2 visas are complicated, so seeking legal counsel is vital. The Richmond E-2 visa lawyer at Fayad Law, P.C. has helped numerous men and women apply for and receive authorization. Reach out today to learn more about starting the E-2 visa process.
You must meet the eligibility requirements to get an E-2 visa. These requirements include:
Be a national of a country with a treaty of commerce with the U.S.

Have a current investment or in the process of investing capital in a U.S. enterprise

The desire to come to the U.S. to develop and direct the enterprise
It's also important to note that the investment must be substantial. 
Why Choose Fayad Law, P.C.
Covers All Aspects of Immigration Law – We help clients with citizenship and naturalization, appeals and bonds, asylum, and other aspects of immigration law.


Multilingual – We are fluent in English, Arabic, French, Russian, and Spanish, allowing us to provide legal services to immigrants from around the world. 


More than 20 Years of Experience – Our experienced legal team understands the immigration system, and we use our legal experience and insight when representing our clients. Our first-hand experience as immigrants also helps our clients navigate the complex immigration system. 


Personal Attention – As a boutique law firm, we limit our caseload to ensure we can provide personal attention to each client that we serve. 


Ethical and Sound Legal Counsel

– Nash Joseph Fayad has a reputation for providing ethical and sound legal counsel and was appointed to serve as Special Counsel to the Commonwealth of Virginia for all immigration matters. 
Ask A Question, Tell Us What Happened or Request a Free Consultation
 or fill out the short form below.
How To Apply For An E-2 Visa
Applying for an E-2 visa is a relatively complicated process. First, you need to invest or be in the process of investing in an enterprise. Then, you will need to complete and submit Form DS-160. If you intend to serve as an essential employee, executive, or manager of the enterprise, you will also need to fill out and submit DS-156E.
The U.S. government also requires that all applicants have a valid passport. If your passport expires less than six months before your intended departure, you must renew it. After submitting the documentation, the consular officer might contact you to request additional documents. When you use an E-2 visa lawyer in Richmond, you won't have to worry about missing documentation or making mistakes. The attorney can work alongside you, ensuring that everything is properly filled out and all documentation is included. 
How Long Does An E-2 Visa Last?
If you are approved for an E-2 visa, you may stay in the United States for up to two years. At the end of the initial period, your E-2 visa lawyer in Richmond can help you apply for a two-year extension. As long as you meet the requirements, you can continue to get two-year extensions on your visa. 
However, to get an extension, you must have an intention to leave the country if your visa is terminated or expires. If there is concern that you will not depart, you might not be granted an extension. Because of its complicated nature, it's wise to consult with an attorney through the entire process, including when getting an extension.
How Much Do You Need To Invest?
The United States government only states that the investment must be substantial. There is not an exact number to qualify for a visa. However, most successful applicants invest at least $100,000 in the enterprise, with many investing more. If you are investing in a start-up business, you might get approved for the visa if you invest less than $100,000. Various factors go into the investment amount, so speak to an experienced Richmond E-2 visa attorney for more information.
Who Can Come To The United States?
Your spouse and children under the age of 21 can come to the United States with you if you're approved for an E-2 visa. Once you arrive in the United States, your spouse can apply for an Employment Authorization Card. Then, your significant other can also work in the country. Your children can also attend school while in America.
What Sets Fayad Law, P.C. Apart?
As a boutique law firm, we make sure that every single case we handle and client we represent receives our personal attention. We limit our caseload to ensure our clients feel truly supported at every moment, from start to finish. Your best interests will always be priority – and that is our driving priority. We know that any type of legal matter can be overwhelming. We approach every case with compassion and dedication from start to finish because we know how much may be at stake for you. We bring more than 20 years of combined legal experience to the table, which gives our clients the legal knowledge and insight needed to successfully navigate various legal processes.

Firsthand Experience
as Immigrants

English, Arabic, French,
Russian and Spanish

Proven Track
Record of Success

Personal, One-on-One
Attention​

You Stay Informed
at All Times
We Strive for Client
Satisfaction
Real Clients, Real Testimonials
Have questions about your rights? Ready to discuss your immigration case? Contact Fayad Law, P.C. now.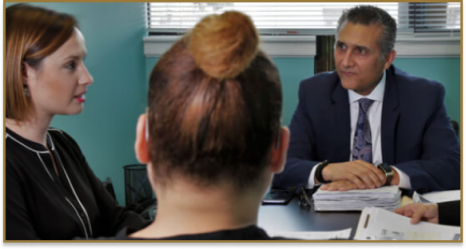 Sign up for the Fayad Law, P.C. Newsletter and get monthly news
straight to your inbox!