Fayad Law, P.C. helps clients secure the immigration bonds needed to get out of ICE detention centers.
If you or a loved one is detained in an ICE detention center, you're likely frightened and confused. You are unsure of the length of detention or if a bond is possible. The information surrounding these cases is confusing, making it challenging for a layperson to navigate the system. A Richmond immigration bond attorney can review the case and find out if a bond is an option. If it is, your attorney can argue for bond during a hearing, and if granted, post it on your behalf. Having an experienced attorney by your side can mean the difference between getting out on bond and languishing in an ICE detention facility.
Fayad Law, P.C. has more than 20 years of combined experience navigating these cases. We understand the complex ICE detention process and have a proven record of helping clients get out on bond. 
Immigration Bond Eligibility
Undocumented immigrants and Green Card holders can qualify for immigration bonds in Virginia. You can likely get a bond as long as your case doesn't involve:
Aggravated felonies

Suspected terrorism

Possession of a controlled substance

Crimes of moral turpitude
If you have been charged with possession of fewer than 30 grams of marijuana, you can still qualify for an immigration bond.
Why Choose Fayad Law, P.C.
Covers All Aspects of Immigration Law – We help clients with citizenship and naturalization, appeals and bonds, asylum, and other aspects of immigration law.


Multilingual – We are fluent in English, Arabic, French, Russian, and Spanish, allowing us to provide legal services to immigrants from around the world. 


More than 20 Years of Experience – Our experienced legal team understands the immigration system, and we use our legal experience and insight when representing our clients. Our first-hand experience as immigrants also helps our clients navigate the complex immigration system. 


Personal Attention – As a boutique law firm, we limit our caseload to ensure we can provide personal attention to each client that we serve. 


Ethical and Sound Legal Counsel

– Nash Joseph Fayad has a reputation for providing ethical and sound legal counsel and was appointed to serve as Special Counsel to the Commonwealth of Virginia for all immigration matters. 
Ask A Question, Tell Us What Happened or Request a Free Consultation
 or fill out the short form below.
Types Of Richmond Immigration Bonds
There are two main types of immigration bonds available. First, there is the delivery bond. The bond is paid to ensure that the charged individual appears at court hearings. If the individual fails to appear, he or she forfeits the bond. The immigrant can also be detained and deported after forfeiting the bond.
A voluntary departure bond is also an option. This bond is available to those who agree to leave the country within a set period of time. You can choose this bond if you intend to go back to your home country and don't want to wait for removal proceedings to end. However, if you select this option, you must leave the country within the time frame. If you fail to do so, you'll be sent back to ICE detention and lose the bond. Your Richmond immigration bond attorney will go over your options to help you choose the best path forward to getting out of ICE detention.
Protect Yourself Against Bond Scams
Sadly, some companies run bond scams to get money from immigrants. The companies claim that the only way to get an immigration bond is to wear a GPS monitoring device. The immigrants are forced to pay both the bond and a monthly fee for the device. The costs far exceed what they would pay for the bond. Attorneys general from various states, including Virginia, sued a bond company for running a scheme like this. Using a Richmond immigration bond attorney from Fayad Law, P.C. will protect you from getting scammed while obtaining a bond. Fayad Law, P.C. understands that you are frightened and vulnerable, and we will do everything in our power to help you secure a fair bond. 
Cost Of An Immigration Bond
ICE considers various factors when determining the cost of a delivery bond. These bonds range from $1,500 up to thousands of dollars, depending on factors such as family ties, length of time in the United States, and criminal history. Departure bonds are normally set at $500. These bonds are lower because the immigrant promises to leave the country after being released from ICE detention, so he or she does not have to reappear in court. Your immigration bond attorney will state a case for a low bond, so you can get out of ICE detention.
You can get the cost of the bond back at the end of the court proceedings. Depending on the nature of the case, this could take a year or longer. If you have met the obligations of the bond, it will be returned to you in full. Your attorney can provide a timeline so you will know when to expect to receive your bond payment. The attorney will also discuss your obligations, so you can meet the demands for the bond and receive the full payment when the legal proceedings are over.
What Sets Fayad Law, P.C. Apart?
As a boutique law firm, we make sure that every single case we handle and client we represent receives our personal attention. We limit our caseload to ensure our clients feel truly supported at every moment, from start to finish. Your best interests will always be priority – and that is our driving priority. We know that any type of legal matter can be overwhelming. We approach every case with compassion and dedication from start to finish because we know how much may be at stake for you. We bring more than 20 years of combined legal experience to the table, which gives our clients the legal knowledge and insight needed to successfully navigate various legal processes.

Firsthand Experience
as Immigrants

English, Arabic, French,
Russian and Spanish

Proven Track
Record of Success

Personal, One-on-One
Attention​

You Stay Informed
at All Times
We Strive for Client
Satisfaction
Real Clients, Real Testimonials
Have questions about your rights? Ready to discuss your immigration case? Contact Fayad Law, P.C. now.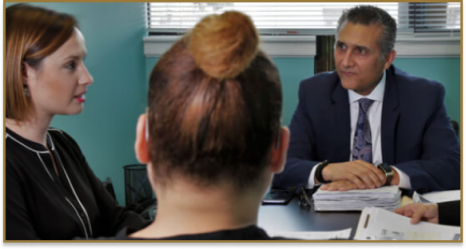 Sign up for the Fayad Law, P.C. Newsletter and get monthly news
straight to your inbox!