Temporary Protection Status (TPS)
Temporary Protection Status (TPS) Lawyer
Our Attorneys Are Here to Protect Your Rights
Temporary Protected Status, or TPS, is a form of temporary immigration status that certain foreign nationals of designated countries can use as a method of staying in the United States. To be eligible for TPS, you must be a citizen of one of the countries on USCIS' designated countries list. The benefit is made available for those who are unable to safely return to their country because of ongoing armed conflict, environmental disasters or epidemics, or some other extraordinary and temporary condition.
If you or a loved one are from one of the countries on the list designated for TPS protection and would like assistance in filing for TPS, the immigration attorneys at Fayad Law, P.C. can help. Our immigration attorneys will handle every aspect of the filing procedure and assist you in any way we can.
If you are granted TPS protection, you will not be removable from the United States, can work by applying for an employment authorization document, and may even be granted permission to travel abroad during the protected period. When granted TPS, you are not granted any other immigration status, but you can file for nonimmigrant status, the adjustment of status based on some other immigration petition you may have filed, and any other immigration benefit for which you may be eligible.
Contact us now for a free evaluation of your case, as time is of the essence when considering TPS. There are filing deadlines and registration periods which must be adhered to in order to be granted TPS. Employing the help of a qualified, experienced Virginia immigration attorney to assist with your filing assures you that the preparation of your application will be accurate and thorough. Our firm is dedicated to helping those who qualify for this benefit.
Please
contact us today
to discuss your case with one of our skilled immigration lawyers.
Introduction To Fayad Law, P.C.
Have questions about your rights? Ready to discuss your
immigration case? Contact Fayad Law, P.C. now.
What Sets Fayad Law, P.C. Apart?
As a boutique law firm, we make sure that every single case we handle and client we represent receives our personal attention. We limit our caseload to ensure our clients feel truly supported at every moment, from start to finish. Your best interests will always be priority – and that is our driving priority. We know that any type of legal matter can be overwhelming. We approach every case with compassion and dedication from start to finish because we know how much may be at stake for you. We bring more than 20 years of combined legal experience to the table, which gives our clients the legal knowledge and insight needed to successfully navigate various legal processes.

Firsthand Experience
as Immigrants

English, Arabic, French,
Russian and Spanish

Proven Track
Record of Success

Personal, One-on-One
Attention​

You Stay Informed
at All Times
We Strive for Client
Satisfaction
Real Clients, Real Testimonials
Professional Associations
Have questions about your rights? Ready to discuss your immigration case? Contact Fayad Law, P.C. now.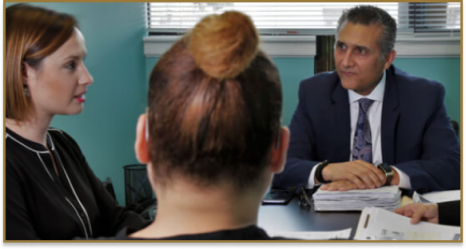 Sign up for the Fayad Law, P.C. Newsletter and get monthly news
straight to your inbox!