Immigration Reform and Newman Class Members
The League of United Latin American Citizens (LULAC) is a non-profit civil rights organization whose mission is to advance the Hispanic population in the United States in the areas of economics, education, housing, health, politics, and civil rights. As supporters of LULAC and its mission, the Virginia immigration attorneys at Fayad Law, P.C. are always involved in educating the public on its activities and accomplishments.
Founded in 1929, LULAC is the oldest and largest active membership organization serving the Latino community in the United States. The LULAC movement is currently supporting and advocating for a comprehensive immigration reform package in Washington, DC which, if passed by Congress, could allow undocumented workers in the United States a path to citizenship. LULAC also offers counseling to those in need of immigration or civil rights assistance throughout the United States.
One of LULAC's most impressive achievements has been to forge a settlement with the United States government correcting past injustices of immigrants who were legally eligible for adjustment of status, but were denied by INS. Under a recent decision by the Western District Court of California, those individuals who were eligible for legalization under 245A of the INA and were informed by an INS officer that they were not eligible for legalization, between the period of May 5, 1987 and May 4, 1988, because they traveled outside of the United States and returned with a visitor's visa, student visa, or any other type of visa or travel document, are now able to apply for status as temporary residents and work authorization by filing the proper forms and supporting documentation. In order to be eligible for this status, you must have filed for class membership under the Newman decision.
How Our Richmond LULAC Attorneys Can Help
If you or a loved one is in need of Newman class membership representation, please contact our Virginia offices today. We offer a free evaluation of your case and will guide you through the process of obtaining your temporary residence status if you are eligible for this benefit.
FAYAD LAW, P.C. PROMO VIDEO
Have questions about your rights? Ready to discuss your
immigration case? Contact Fayad Law, P.C. now.
What Sets Fayad Law, P.C. Apart?
As a boutique law firm, we make sure that every single case we handle and client we represent receives our personal attention. We limit our caseload to ensure our clients feel truly supported at every moment, from start to finish. Your best interests will always be priority – and that is our driving priority. We know that any type of legal matter can be overwhelming. We approach every case with compassion and dedication from start to finish because we know how much may be at stake for you. We bring more than 20 years of combined legal experience to the table, which gives our clients the legal knowledge and insight needed to successfully navigate various legal processes.

Firsthand Experience
as Immigrants

English, Arabic, French,
Russian and Spanish

Proven Track
Record of Success

Personal, One-on-One
Attention​

You Stay Informed
at All Times
We Strive for Client
Satisfaction
Real Clients, Real Testimonials
Professional Associations
Have questions about your rights? Ready to discuss your immigration case? Contact Fayad Law, P.C. now.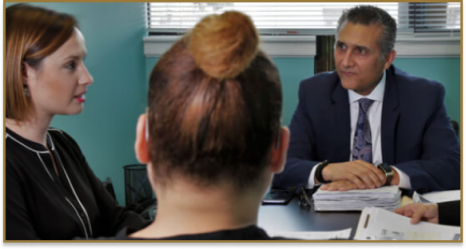 Sign up for the Fayad Law, P.C. Newsletter and get monthly news
straight to your inbox!