K-1 Fiancé(e) Visa Attorney
Expect a High Level of Diligence From Our Law Firm
If you are a U.S. citizen and are planning to marry a foreign national who currently lives abroad, you will need to assist your fiancé or fiancée with the process of applying for a K-1 visa. The K-1 visa is intended for the fiancé(e) of a United States citizen who wants to enter this country for the purposes of marrying and subsequently establishing permanent residency. A K-1 visa holder is required to marry his or her future spouse within 90 days of arrival in the U.S., after which he or she may petition U.S. Citizenship and Immigration Services (USCIS) for adjustment of status for a green card.
Applying for a Fiancé(e) Visa in Virginia
The first step in applying for a K-1 visa is for you to complete and submit the Form I-129F, Petition for Alien Fiancé(e). The Form I-129F essentially serves as your sponsorship of the other party to immigrate to the U.S. Once this form has been processed by USCIS, it will then be forwarded to the local Consulate or U.S. Embassy in your future spouse's home country so that he or she may then apply for the K-1 visa. If he or she has children, they may be eligible for a K-2 visa, which allows their children to accompany the K-1 visa holder.
The K-1 visa application requires extensive documentation, including police records, medical records, and evidence of financial support, in addition to evidence that you and your future spouse have a genuine relationship and that you have met in person at least once in the last two years (though there are exceptions to this last requirement).
Applicants frequently make mistakes, such as including erroneous information, omitting information, or failing to understand the requirements. You can greatly improve your chances of success in the process, as well as avoiding any unnecessary complications, by hiring a Virginia immigration lawyer from Fayad Law, P.C. We are ready to put our two decades of experience to work in helping you get a K-1 visa so that you can start building a life in this country with the person you love.
Call us at (703) 998-5390 today to speak with an experienced attorney.
Introduction To Fayad Law, P.C.
Have questions about your rights? Ready to discuss your
immigration case? Contact Fayad Law, P.C. now.
What Sets Fayad Law, P.C. Apart?
As a boutique law firm, we make sure that every single case we handle and client we represent receives our personal attention. We limit our caseload to ensure our clients feel truly supported at every moment, from start to finish. Your best interests will always be priority – and that is our driving priority. We know that any type of legal matter can be overwhelming. We approach every case with compassion and dedication from start to finish because we know how much may be at stake for you. We bring more than 20 years of combined legal experience to the table, which gives our clients the legal knowledge and insight needed to successfully navigate various legal processes.

Firsthand Experience
as Immigrants

English, Arabic, French,
Russian and Spanish

Proven Track
Record of Success

Personal, One-on-One
Attention​

You Stay Informed
at All Times
We Strive for Client
Satisfaction
Real Clients, Real Testimonials
Professional Associations
Have questions about your rights? Ready to discuss your immigration case? Contact Fayad Law, P.C. now.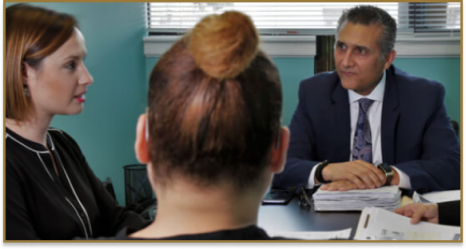 Sign up for the Fayad Law, P.C. Newsletter and get monthly news
straight to your inbox!