Spouses of U.S. Citizens: Getting Legal Status
Contact Citizenship Attorneys Serving USA for 20+ Years
It is well-known that in the United States, being a spouse of a U.S. citizen is the easiest and clearest path to gaining legal residency status, and eventually, citizenship. However, due to the regulations and requirements set forth by the Department of Homeland Security, even the process of obtaining citizenship through marriage to a U.S. citizen can be complicated, confusing, and frustrating for a layperson attempting to navigate the waters of USCIS requirements.
At Fayad Law, P.C., we frequently see cases where USCIS has requested additional evidence, claiming that they have not received certain information that was already submitted in an initial filing, or requesting further information. Most of the time, a re-submission of the same evidence with a detailed explanation attached can remedy the situation and effectuate a granting of permanent residency status more quickly. A delay in your response, or a failure to provide exactly what the immigration authorities are asking for can stall the process, or create problems in finally getting legal status.
Avoid Delays. Call (703) 998-5390 for Assistance.
If you are in the process of filing an initial I-130 petition, or you have already filed and received a Request for Additional Evidence, please contact our firm to receive an initial consultation on how to overcome the maze of regulatory requirements involved in obtaining permanent residency or citizenship. We are fully aware of how the immigration authorities operate, what they expect, and how to resolve the most difficult problems in immigration. These issues must be resolved quickly and correctly, with correct submission in every case. Laypersons can be stopped in their tracks with confusing requests, often about information that has already been submitted.
We have found that having an attorney of record communicating with USCIS often eliminates USCIS problems, and accelerates the approval process. Having deep knowledge and skill in filing petitions and responses to RFEs after years of experience has allowed us to obtain citizenship for hundreds of our clients in a short period of time.
Call us at (703) 998-5390 today to schedule your free initial consultation so we can show you how we can help eliminate the delays and obtain your approval.
Introduction To Fayad Law, P.C.
Have questions about your rights? Ready to discuss your
immigration case? Contact Fayad Law, P.C. now.
What Sets Fayad Law, P.C. Apart?
As a boutique law firm, we make sure that every single case we handle and client we represent receives our personal attention. We limit our caseload to ensure our clients feel truly supported at every moment, from start to finish. Your best interests will always be priority – and that is our driving priority. We know that any type of legal matter can be overwhelming. We approach every case with compassion and dedication from start to finish because we know how much may be at stake for you. We bring more than 20 years of combined legal experience to the table, which gives our clients the legal knowledge and insight needed to successfully navigate various legal processes.

Firsthand Experience
as Immigrants

English, Arabic, French,
Russian and Spanish

Proven Track
Record of Success

Personal, One-on-One
Attention​

You Stay Informed
at All Times
We Strive for Client
Satisfaction
Real Clients, Real Testimonials
Professional Associations
Have questions about your rights? Ready to discuss your immigration case? Contact Fayad Law, P.C. now.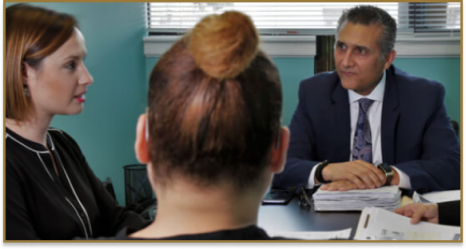 Sign up for the Fayad Law, P.C. Newsletter and get monthly news
straight to your inbox!