Age & Physical Presence Exceptions to Citizenship
Age & Physical Presence Exceptions to Citizenship Test
Accommodations Available to Older Applicants
As an accommodation to certain older applicants, USCIS will grant some exceptions to those taking the English and civics exams for citizenship. If you or a family member is over 65 and applying for naturalization, contact Fayad Law, P.C. so that we can help you get an easier version of the civics and English exams. As we get older, it can be far more difficult to learn a new language or remember factual material, so aged applicants can request and take an easier form of the English and civics test. Green card holders aged 65 and up who have lived in the United States as permanent residents for at least 20 years can take a far simpler version of them which is known as the 65/20 exception. The test is far easier as there are only 20 questions to study, rather than the 100 that other applicants will be required to study and be tested on. Only ten of the questions will be asked of the older applicant with the 65/20 exception, and the applicant must answer only six questions correctly to pass the exam.
Continuous Physical Presence: Certain Exceptions to the Rule
Some applicants may qualify for an exception to the continuous physical presence within the United States as a requirement prior to applying for and obtaining citizenship. If you are a U.S. government employee working abroad, you are exempt to the continuous presence requirement, as it is deemed that your residence in the United States is preserved during the time working abroad. Similarly, members of media organizations, interpreters, security-related managers and executives, those in the military, some who serve in various religious vocations and the spouses and children of those who qualify under these categories can have their residency preserved while out of the United States.
Contact our firm for a free evaluation today. We are one of Virginia's premier immigration law firms. Take the opportunity to experience for yourself the excellent service and successful results our clients have enjoyed since 2004.
Introduction To Fayad Law, P.C.
Have questions about your rights? Ready to discuss your
immigration case? Contact Fayad Law, P.C. now.
What Sets Fayad Law, P.C. Apart?
As a boutique law firm, we make sure that every single case we handle and client we represent receives our personal attention. We limit our caseload to ensure our clients feel truly supported at every moment, from start to finish. Your best interests will always be priority – and that is our driving priority. We know that any type of legal matter can be overwhelming. We approach every case with compassion and dedication from start to finish because we know how much may be at stake for you. We bring more than 20 years of combined legal experience to the table, which gives our clients the legal knowledge and insight needed to successfully navigate various legal processes.

Firsthand Experience
as Immigrants

English, Arabic, French,
Russian and Spanish

Proven Track
Record of Success

Personal, One-on-One
Attention​

You Stay Informed
at All Times
We Strive for Client
Satisfaction
Real Clients, Real Testimonials
Professional Associations
Have questions about your rights? Ready to discuss your immigration case? Contact Fayad Law, P.C. now.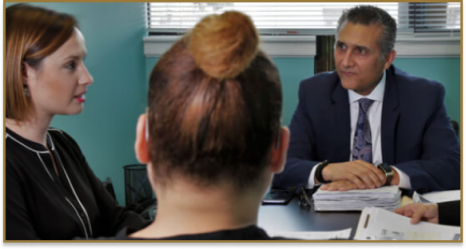 Sign up for the Fayad Law, P.C. Newsletter and get monthly news
straight to your inbox!