Immigration and Customs Enforcement (ICE)
Immigration Bond and ICE Holds Lawyer
The United States Immigration and Customs Enforcement (ICE) agency is the agency under the United States Department of Homeland Security that is charged with the identification, investigation, and dismantling vulnerabilities of our nation's border and economic, transportation and infrastructure security. ICE is split up into 2 departments, HIS, or Homeland Security Investigations, and ERO, or Enforcement and Removal Operations. When an individual is held by ICE, they may be detained for a long period of time awaiting a judicial hearing or removal from the United States. At the Virginia law offices of Fayad Law, P.C., many of our clients have been detained by ICE due to an arrest by police, either local or state, which triggered an identification check that discovered the individual was either ordered to be removed from the United States in an immigration case, or an undocumented alien.
If your loved one or someone you know is on an ICE hold, gather any immigration information or documents you can find, and consult with a qualified immigration attorney immediately. Often, the individual being detained could be eligible for a bond, which would allow them to be released from custody. It is very common for detainees to be moved from one jail facility to another several times during an ICE hold. The individual will eventually be in front of a judge who has the authority to release them if a bond is paid to the immigration court. However, without an attorney present at the hearing, it may be almost impossible to convince the judge to grant a bond. Even if the judge does grant a bond, it is extremely difficult for a layperson to find out about the bond, or where it must be posted. Information regarding ICE and its offices and telephone numbers are difficult to find, but a qualified immigration attorney who is familiar with the ICE detention process already has access to the proper contact information.
Contact our offices immediately if you have a friend or family member who needs help getting a bond to be released from an ICE hold. An immigration bond set by a judge is usually either $5,000 or $10,000. 
Contact us today
 for a free consultation.
Introduction To Fayad Law, P.C.
Have questions about your rights? Ready to discuss your
immigration case? Contact Fayad Law, P.C. now.
What Sets Fayad Law, P.C. Apart?
As a boutique law firm, we make sure that every single case we handle and client we represent receives our personal attention. We limit our caseload to ensure our clients feel truly supported at every moment, from start to finish. Your best interests will always be priority – and that is our driving priority. We know that any type of legal matter can be overwhelming. We approach every case with compassion and dedication from start to finish because we know how much may be at stake for you. We bring more than 20 years of combined legal experience to the table, which gives our clients the legal knowledge and insight needed to successfully navigate various legal processes.

Firsthand Experience
as Immigrants

English, Arabic, French,
Russian and Spanish

Proven Track
Record of Success

Personal, One-on-One
Attention​

You Stay Informed
at All Times
We Strive for Client
Satisfaction
Real Clients, Real Testimonials
Professional Associations
Have questions about your rights? Ready to discuss your immigration case? Contact Fayad Law, P.C. now.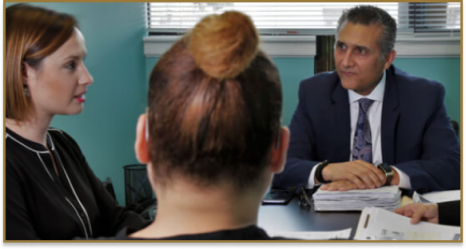 Sign up for the Fayad Law, P.C. Newsletter and get monthly news
straight to your inbox!