Deportation Defense Attorneys
When you or your loved one is detained by Immigration and Customs Enforcement (ICE) it may be possible to bond them out of immigration detention. Depending upon the case and the reason for their detention, a bond could be set for $5,000 or $10,000, enabling them to be released from custody until their next court date. There are two different types of bonds, delivery bonds and voluntary departure bonds. The immigration attorneys at Fayad Law, P.C. can help you determine whether a bond will be possible, and can motion the proper court or agency to set that bond for you.
Delivery Bonds and Voluntary Departure Bonds
The delivery bond is only available to you or your loved one if a notice of custody conditions and warrant of arrest is issued in the case. The bond is an assurance to the court that the individual who is bonded out of custody will return for their next court date. The amount of the bond is set by a judge depending upon the severity of the case. If the individual does get a bond and posts it, they must show up for their next court date or the bond money is forfeited. Returning to court will generally result in the bond money being returned. Voluntary departure bonds are granted by a judge in the situation where the judge has ordered a voluntary departure from the country in exchange for closing the proceedings against an individual and the agreement to leave the country in lieu of forced deportation. If the individual leaves the country as agreed, the bond is returned to the person who paid for it.
Posting a bond is generally a sound choice as it frees the detainee to meet with an attorney and consult about future court dates, or to settle their personal affairs before departing the United States. Contact our immigration attorneys today to see if you can post a bond for your loved one and help them take advantage of the time granted to either prepare for a court battle or leave the United States on their own terms.
We offer a free evaluation and are available 24 hours a day to receive your call to schedule an appointment that is convenient for you and fits your schedule.
Contact us now.
Introduction To Fayad Law, P.C.
Have questions about your rights? Ready to discuss your
immigration case? Contact Fayad Law, P.C. now.
What Sets Fayad Law, P.C. Apart?
As a boutique law firm, we make sure that every single case we handle and client we represent receives our personal attention. We limit our caseload to ensure our clients feel truly supported at every moment, from start to finish. Your best interests will always be priority – and that is our driving priority. We know that any type of legal matter can be overwhelming. We approach every case with compassion and dedication from start to finish because we know how much may be at stake for you. We bring more than 20 years of combined legal experience to the table, which gives our clients the legal knowledge and insight needed to successfully navigate various legal processes.

Firsthand Experience
as Immigrants

English, Arabic, French,
Russian and Spanish

Proven Track
Record of Success

Personal, One-on-One
Attention​

You Stay Informed
at All Times
We Strive for Client
Satisfaction
Real Clients, Real Testimonials
Professional Associations
Have questions about your rights? Ready to discuss your immigration case? Contact Fayad Law, P.C. now.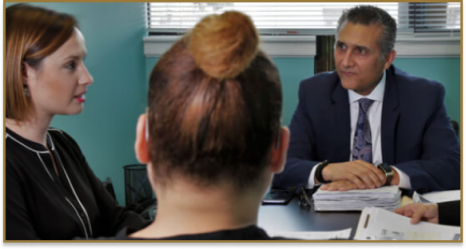 Sign up for the Fayad Law, P.C. Newsletter and get monthly news
straight to your inbox!