Board of Immigration Appeals
Board of Immigration Appeals
US Immigration Attorney and Appeals to the BIA
The Board of Immigration Appeals (BIA), is a component of the Executive Office for Immigration Review (EOIR) under the United States Department of Justice. The BIA is the highest administrative body for interpreting and applying immigration laws. The board has jurisdiction over cases which were decided by an immigration judge, USCIS and immigration arrests by US Customs and Border Protection and US Immigration and Customs Enforcement.
Often cases are decided by one board member unless the case presents issues such as settling inconsistencies among the various decisions of different immigration judges, establishing precedent construing the meaning of laws, regulations or procedures, reviewing decisions by an immigration judge which are contrary to the law, reviewing erroneous factual determinations by an immigration judge, or the need to resolve cases of major national importance. These cases are highly technical in their nature and should be handled by an experienced, highly skilled immigration lawyer.
Free Immigration Consultation in Virginia
Fayad Law, P.C. and its Virginia based immigration attorneys have extensive experience over the past 20 combined years arguing cases before the BIA for their clients. If you or someone you care about is in need of an immigration attorney to appeal their case to the BIA, please contact us for a free consultation of the case. We are committed to providing the best service possible and have succeeded in cases where other law firms have failed or just given up.
Contact us today and talk with one of our immigration lawyers regarding your case. We offer a free consultation to help you decide whether or not you are comfortable hiring our firm to represent you in what is probably one of the most important matters of your life. See what our clients have said about their experience with us and decide for yourself.
Introduction To Fayad Law, P.C.
Have questions about your rights? Ready to discuss your
immigration case? Contact Fayad Law, P.C. now.
What Sets Fayad Law, P.C. Apart?
As a boutique law firm, we make sure that every single case we handle and client we represent receives our personal attention. We limit our caseload to ensure our clients feel truly supported at every moment, from start to finish. Your best interests will always be priority – and that is our driving priority. We know that any type of legal matter can be overwhelming. We approach every case with compassion and dedication from start to finish because we know how much may be at stake for you. We bring more than 20 years of combined legal experience to the table, which gives our clients the legal knowledge and insight needed to successfully navigate various legal processes.

Firsthand Experience
as Immigrants

English, Arabic, French,
Russian and Spanish

Proven Track
Record of Success

Personal, One-on-One
Attention​

You Stay Informed
at All Times
We Strive for Client
Satisfaction
Real Clients, Real Testimonials
Professional Associations
Have questions about your rights? Ready to discuss your immigration case? Contact Fayad Law, P.C. now.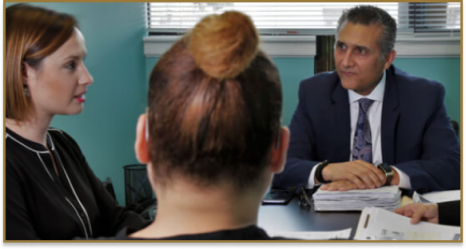 Sign up for the Fayad Law, P.C. Newsletter and get monthly news
straight to your inbox!