Administrative Appeals Office (AAO)
Administrative Appeals Office (AAO)
Attorneys Assisting With Appeals From USCIS Denials
The Administrative Appeals Office (AAO) is the branch of the United States Citizenship and Immigration Service which handles appeals from a negative decision of USCIS. AAO has jurisdiction over appeals from negative decisions, including but not limited to, those related to most employment-based immigrant and non-immigrant visa petitions. They also have jurisdiction over appeals from ICE determinations that a security bond has been breached, fiancé petitions, applications for TPS, T and U visa applications, applications to preserve residence for naturalization purposes, applications for permission to reapply for admission after deportation, immigrant petitions for alien entrepreneurs, applications for waiver of grounds of inadmissibility and orphan petitions.
Our immigration attorneys at Fayad Law, P.C., have extensive experience and success in filing and successfully arguing appeals before the AAO, with over 20 years of combined immigration law practice. If you have been denied an application for one of the aforementioned applications or benefits, time to file an appeal is limited. Please consult with an experienced and knowledgeable immigration attorney if you are faced with the possibility of filing an appeal. The requirements for filing an appeal can be complex at times, and the proper and accurate preparation of one's appeal package can be the difference between success and failure. If supporting documentation is missing, or the format of your appeal is incorrect, the appeal could be dismissed.
Contact our Immigration Appeals Lawyers
Contact our immigration lawyers today for a free consultation so that we can determine the best course of action for you and your case. It is absolutely crucial that you act as quickly as possible so as to not miss any filing deadlines. At our firm, we are passionate about immigration and helping people realize their dreams of living and working in the United States.
Introduction To Fayad Law, P.C.
Have questions about your rights? Ready to discuss your
immigration case? Contact Fayad Law, P.C. now.
What Sets Fayad Law, P.C. Apart?
As a boutique law firm, we make sure that every single case we handle and client we represent receives our personal attention. We limit our caseload to ensure our clients feel truly supported at every moment, from start to finish. Your best interests will always be priority – and that is our driving priority. We know that any type of legal matter can be overwhelming. We approach every case with compassion and dedication from start to finish because we know how much may be at stake for you. We bring more than 20 years of combined legal experience to the table, which gives our clients the legal knowledge and insight needed to successfully navigate various legal processes.

Firsthand Experience
as Immigrants

English, Arabic, French,
Russian and Spanish

Proven Track
Record of Success

Personal, One-on-One
Attention​

You Stay Informed
at All Times
We Strive for Client
Satisfaction
Real Clients, Real Testimonials
Professional Associations
Have questions about your rights? Ready to discuss your immigration case? Contact Fayad Law, P.C. now.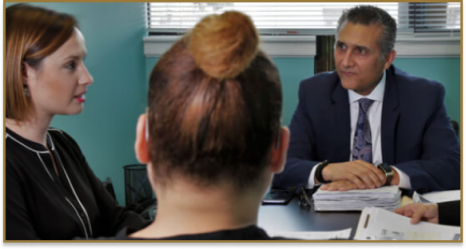 Sign up for the Fayad Law, P.C. Newsletter and get monthly news
straight to your inbox!