US Immigration Appeals Lawyer
No matter what may have happened in your immigration case, if you were denied your petition or lost your case before USCIS, the Board of Immigration Appeals, or ICE, you should consult with a qualified immigration lawyer in Virginia with extensive experience fighting appellate cases before the proper court for your case. Depending upon where your case ended, the next level for an appeal is determined by rules and regulations which can be very complicated. The Virginia immigration attorney at Fayad Law, P.C. have the requisite knowledge and skill to determine the proper venue for your appeal and whether or not there is a likelihood of success should an appeal be followed.
Whether you must file with the BIA, the Fourth Circuit Court of Appeals or USCIS, a critical part of the process will be the immigration attorney you choose to represent you and protect your legal rights. The deadlines and appellate procedures which rule the process are critically important and must be followed to the letter of the law. The preservation of options for higher appeals depends on your attorney's knowledge of the law and the rules. Deportation appeals are increasingly becoming difficult to win, and the selection of your attorney should not be based on popularity or price.
Free Immigration Appeal Consultation
Since 2004, when our firm was founded by Nash Fayad, we have been representing clients in appellate courts and proceedings with great success. Our record speaks for itself, read what our clients have said and determine for yourself whether or not you should schedule a free consultation with one of our Virginia immigration attorneys. Our attorneys are fluent in many languages and understand the nuances of the immigration system in the United States and how to make it work for you.
Contact us today
 if you or a loved one is in need of assistance filing an appeal of your recent decision.
Introduction To Fayad Law, P.C.
Have questions about your rights? Ready to discuss your
immigration case? Contact Fayad Law, P.C. now.
What Sets Fayad Law, P.C. Apart?
As a boutique law firm, we make sure that every single case we handle and client we represent receives our personal attention. We limit our caseload to ensure our clients feel truly supported at every moment, from start to finish. Your best interests will always be priority – and that is our driving priority. We know that any type of legal matter can be overwhelming. We approach every case with compassion and dedication from start to finish because we know how much may be at stake for you. We bring more than 20 years of combined legal experience to the table, which gives our clients the legal knowledge and insight needed to successfully navigate various legal processes.

Firsthand Experience
as Immigrants

English, Arabic, French,
Russian and Spanish

Proven Track
Record of Success

Personal, One-on-One
Attention​

You Stay Informed
at All Times
We Strive for Client
Satisfaction
Real Clients, Real Testimonials
Professional Associations
Have questions about your rights? Ready to discuss your immigration case? Contact Fayad Law, P.C. now.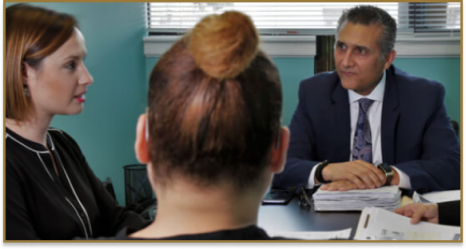 Sign up for the Fayad Law, P.C. Newsletter and get monthly news
straight to your inbox!